Local flavours shining through a heartwarming view
Come visit and dive in the scenic view over the surrounding valleys. Meanwhile, enjoy our traditional dishes served in a warm and elegant setting.
Traditional restaurant in Lessinia:
home-cooked, with a twist
A taste of the neighbourhood: regionally sourced ingredients that make the difference
Fresh, local ingredients are the main characters of our meals: we believe that's the best way to convey the culture and sensations of our territory
Cheese-based plates, with cheese locally produced at Punto Verde Cheese Factory
'Bolca Potatoes' Gnocchi, made with our local potatoes, particularly rich in antioxidants
Fresh pasta, homemade with love and inspired by tradition
Check out our menu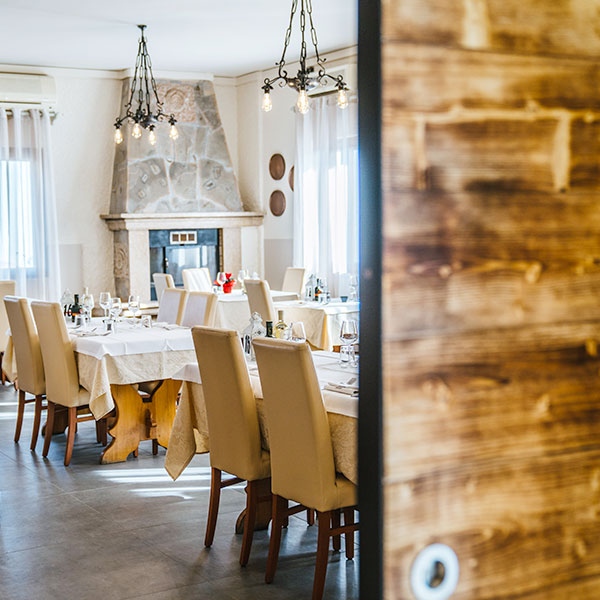 Organise your upcoming events with us and surprise your guests
Organize your most important events in our welcoming, spacious dining-rooms. We offer personalised menus for:
Baptism and Confirmation parties
Graduation parties
Birthdays
Any other small-sized event
Get in touch for more details
Pick the right wine to enhance your dishes to perfection
Choose the perfect wine to complement your main dish. Our wines are selected from our favourite local wineries with respect to the traditional art of winemaking.
Check out our wine selection
FAQ
You can park for free behind our restaurant.
If you have any specific dietary requirement, please inform a member of the waiting staff and we will do our best to accommodate you.
Of course, we can offer you a custom menu for your event. Give us a call and we will find a solution that can work for you.
By car::
Venice-Milan highway, take the exit at Soave-San Bonifacio, take the road for Monteforte d'Alpone and then the Val d'Alpone Provincial Road SP17 (about 28 km).
You can also take the exit at Montebello, drive through Arzignano and Chiampo and up the Chiampo Valley.
By train/bus:
Milano-Venezia rail route: get off in San Bonifacio, then take the bus n. 226 towards Vestenanova-Bolca.
Traditional restaurant in Lessinia, open every day
Get a genuine and interesting experience of our territory by tasting our carefully prepared dishes made with top quality ingredients
Book a table